Horizons International Releases Improved Quality Assurance Reporting with Quality Essentials Suite Version v.2.23.1nn
August 27, 2019 (Julian, CA) - Horizons International has announced the release of their newest version of Quality Essentials Suite. This release continues their efforts to bring increased efficiency and security to the tasks of data collection, analysis and quality assurance reporting. Their quality management software solution affordably supports the needs of quality departments in a variety of industries.
The software is designed to reduce overhead for quality management functions in industries with heavy regulatory and quality assurance reporting requirements. The latest release delivers enhancements for quality assurance reporting by focusing on tasks that make the work of generating certificates of analysis less time consuming.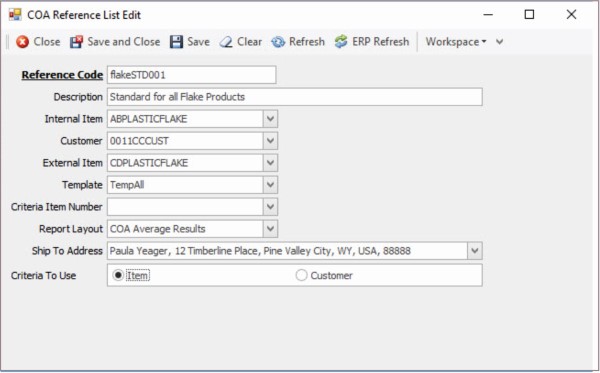 V2.23.1nn introduces "quick create" tools that enable users to create setup records that define and store frequently needed data combinations. This functionality reduces the overall number of selection steps when generating a certificate of analysis by an estimated 50% from traditional spreadsheet or office productivity tools.
This release also supports developing, and running, complex formulas with tools similar to those found in most spreadsheet products. These formulas can include constants, reference values saved in master records and data results recorded during current quality control testing. The results from these calculations will save the time spent in manual calculations while providing accessible timely verification of accuracy.

The addition of spreadsheet calculations as a data type for defining test result values will bring the number of data types available in Quality Essentials Suite to 15. Data type definitions are one more way that Quality Essentials Suite enables greater accuracy and productivity while supporting quality assurance reporting requirements.
"We continue to see quality departments struggle to keep up with their work load due to dependency on spreadsheets and other silos of data. We believe the quick create tools in our latest release can improve productivity of Certificate of Analysis generation by 50% and significantly reduce workload burdens," says Frances Donnelly, Director of Product Development and Sales. "Too often I speak to people in charge of Quality departments that are spending way too much time dealing with error-prone, antiquated processes for generating these required quality assurance reporting documents."
Quality Essentials Suite functionality executes independently of the users' ERP solution to create a complete quality record that supports the full life cycle of regulatory requirements. Organizations in a variety of industries, from food to chemicals, with the need to provide Certificate of Analysis reports to meet industry requirements will find this solution, which runs on Microsoft SQL Express, cost-effective and scalable.
Watch the video to see how you can benefit from improved quality assurance reporting when generating certificates of analysis.
Media Inquiries
Frances Donnelly, Director of Product Development Horizons International
800.287.8014 ext. 811
Quality Essentials Suite
In 2009, Horizons began introduction of Quality Essentials Suite (QES). It is now a platform independent, multi-user, affordable solution for customers with quality control requirements in any industry, of any size. Evolving from its launch as an integrated solution with Microsoft Dynamics GP Quality Essentials is unique in its support of all Dynamics brand products. Whether an organization is engaged in quality management activities as a result of ISO certification, to meet regulatory requirements or for the strategic benefit of delivering higher levels of customer satisfaction, there is a daily challenge to cost effectively collect, monitor, analyze and securely store relevant data. QES affordably meets current quality assurance challenges. Follow our blog or find us on Twitter.
Horizons International
Founded in 1987, Horizons International has worked closely with Microsoft Business Solutions Dynamics GP. Horizons is always one of the first tightly integrated, certified ISVs to release integrated solutions, allowing customers to take advantage of new functionality quickly. The professionals at Horizons have over 50 years combined experience in consulting and developing for manufacturing, accounting software applications and quality management.
Ready to see us in action? Request a free demo today and in a short 20-minute conversation you can learn more about how you can stop worrying about the issues in your quality management systems and affordably gain greater control of necessary tasks.
Contact Information
SALES
sales@qualityessentialssuite.com
+1 (866) 949-9504, ext 811
SUPPORT
support@qualityessentialssuite.com
+1 (866) 949-9504, ext 2